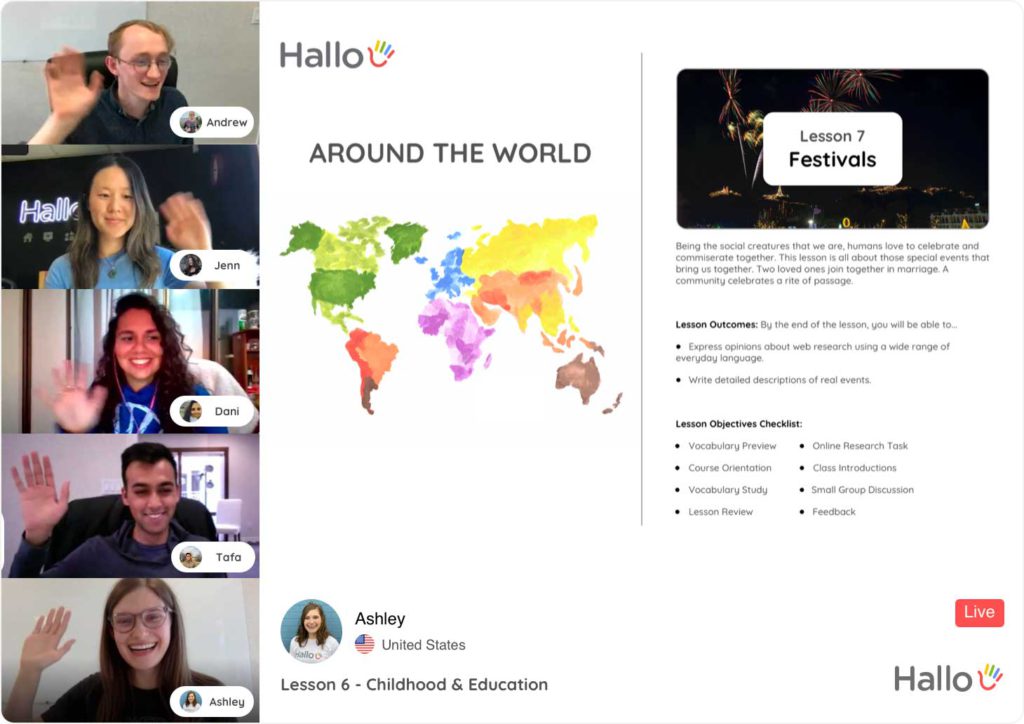 Hello! My name is Dani, I'm from Chile. I am excited to share my journey with you on becoming fluent and finding an incredible job, and husband, along the way!
Something unique about me is that I rarely give up something that I want, even if it takes me months or even years. If I have a goal in mind, then you can be sure I will accomplish it! If you don't give it all, then why bother? 
I have a passion for helping others. I think it's rewarding to assist people to realize their strengths, to be with them when they face their fears or when they need someone to listen to them. I also enjoy reading, learning English, and recently, gardening. 
I didn't think that much about how much I've improved until the other day when my teacher congratulated my progress and showed me two of my videos: one in 2019, and the other one from last month. Looking back, I think that I've grown quite a lot in terms of confidence, pronunciation, and intonation. 
Practicing at Hallo gave me the opportunity to practice my English and connect with different people, get used to their accents, expressions and know more about their cultures.
It's crazy how one decision can impact your life on so many levels. At first, I began learning English because I wanted to go to the USA and overall travel around the world. Not in a million years, I thought that English could help me land an incredible job opportunity and an amazing relationship! 
When I lived in the USA for a few months, everything was -obviously- in English, and I think that that's when my English improved the most. So when I was back in Chile, one of the first things that I did was to change everything I had to English: my phone settings, TV, Kindle, laptop, subtitles when I watch movies, etc. To learn English, you need to surround yourself with it and live in the culture as much as possible. Back then, there was no app to talk to others and practice to have an online immersive experience. Besides changing everything to English, I suggest you use Hallo and practice as much as you can. Exposure is the best school. 
The biggest pitfall is the archaic belief that you can improve your English if you practice on your own. No way, Jose. If you want to make any difference in your fluency, pronunciation, and confidence, then you must speak with others, expose yourself, answer random and unexpected questions, and challenge yourself. Every time you feel too comfortable with your English, then you know it's time to step up your game. Comfort doesn't make you grow, be comfortable only when you need a break to keep going. 
I wished I knew that it would take years to truly master English. It's not something that you can learn every now and then, it's a long time commitment. If I could give myself a piece of advice is this: Dani if you want to improve your pronunciation, you can't speak English as if you were speaking in Spanish. Chilean Spanish is flat, so you need to play with your intonation, and move your mouth, lips, tongue, and even breathe differently! 
Who do you recommend to follow on Hallo
There are many helpful students. On the top of my head, I have Jay, he has really great English and he helps others in his Livestreams. Kylie is a great speaking partner if you can keep up with her great questions, you will definitely never get bored. Marwa is the sweetest and most supportive of them all, and Pao-giggles will always make you laugh. 
For teachers, I have different recommendations based on what you want to achieve: If you are looking to improve your pronunciation, then teacher Allen is a must. He has helped me greatly to understand and practice different sounds! Nalie is an IELTS expert. I practiced with her a few times and she helped me achieve 8.5 on IELTS (I took a private lesson right before my speaking test, and oh my! Warming up right before my test was the best decision). If you are looking for a casual type of learning, then I would go with Ryan. You won't even feel you are studying! Lastly, I think teacher Sky is so approachable, supportive and so, so smart! She will walk right beside you in your English learning journey. 
Another app that I recommend is Speakometer to listen to the correct pronunciation and compare it with your own. 
Make the most out of Hallo courses:
One key factor is to take time before your lesson to review the material. It took me around 30 minutes each morning to go through the preview lesson, and prepare the homework needed for class and the session group. Also, make sure that you don't make plans after your lesson! My classmates were so fun to be around that we always stayed longer discussing our homework. Sure, you can do the task in 30 minutes, but I bet you won't even realize how much time has elapsed until it's been more than an hour.
I tried to read and be prepared as much as I could before class, so I could only make meaningful questions to my teacher. The group chat was helpful too, our teacher would always encourage us and answer our questions when she had the time or a classmate would answer and help, too. 
Have you heard the phrase "it takes a village to raise a child"? If I'm not mistaken, it's a proverb that means that a child needs a community to interact with them, so they can grow in a safe and healthy environment. If you think about it, it could also apply to the English learner- you need a community to interact with if you want to become fluent. If you don't have a community to support you, then you should look for one ASAP!